Everyone wants younger, attractive-looking skin, but it can be difficult sorting through the various treatment options. Dr. Robert Graper and Dr. Garrett Harper have found that their patients are very enthusiastic about their results following radiofrequency (RF) microneedling. This procedure uses tiny needles to generate collagen production beneath the skin, and it is considered much less invasive than alternative skin treatments.
How RF Microneedling Works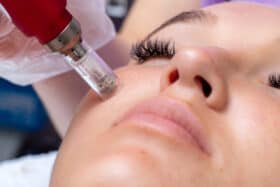 The microneedling device makes many microscopic puncture wounds in your skin simultaneously. While these pinpricks cause no permanent harm to your body, they do provoke your body to start creating more collagen and elastin than it naturally does. As more collagen and elastin forms, your skin will get tighter and the the appearance of lines and scars will be minimized.
What makes RF microneedling different from traditional microneedling is that the radiofrequency boosts collagen production even further. Moreover, the heat from the RF constricts deeper layers of your skin, which should make your skin that much smoother and less wrinkled.
It can take a few weeks for the effects of the collagen increase to be visible on your skin. The best results will manifest a few months after the treatment. Most of our patients choose to schedule multiple RF microneedling treatments (each spaced a month or two apart) to maximize the results.
The Benefits of RF Microneedling
Although RF microneedling is best known for helping patients to achieve tighter, rejuvenated skin, it can address a wide range of skin imperfections. Our patients have seen remarkable improvements to their:
Wrinkles and fine lines
Enlarged pores
Scars, particularly acne scars
Stretch marks and cellulite
Hyperpigmentation
Age spots
Best of all, microneedling is highly effective at treating skin on many parts of the body. Among the most common areas we treat with radiofrequency energy are the face, arms, abdomen and knees.
Utilizing the Latest Technology
The team of medical aestheticians at Graper Harper Cosmetic Surgery performs RF microneedling with Morpheus8, the most respected name in radiofrequency microneedling. Morpheus8 can penetrate your skin up to 8 millimeters, which makes it the deepest treatment available on the market. The technology comes with multiple handpieces so the aesthetician can better treat larger and smaller skin areas with pins that reach different depths.
Recovery from RF Microneedling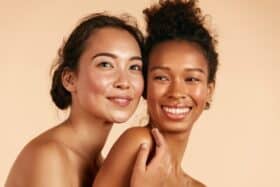 There is no downtime associated with microneedling, meaning you are free to resume normal activities as soon as you leave our facilities. You can expect your skin to be reddened for a few days, the irritation often looking similar to sunburn. Some patients may experience mild bruising, which can be covered up with cosmetics starting 24 hours after the treatment. Your skin will be sensitive to UV rays, so be mindful to avoid the sun when possible and wear sunscreen liberally.
Safety
RF microneedling is a very safe procedure with minimal risks for people of all skin types. While other microneedling devices pose a risk of hyperpigmentation on people with the darkest skin tones, that risk is substantially reduced with Morpheus8 technology. This procedure is not recommended for patients who are pregnant or nursing, have current skin infections or cold sores, are undergoing radiation or chemotherapy or have a history of poor wound healing in the form of excess scarring.
Make an Appointment
To schedule an appointment with one of our expert medical aestheticians for RF microneedling, please call (704) 375-7111.