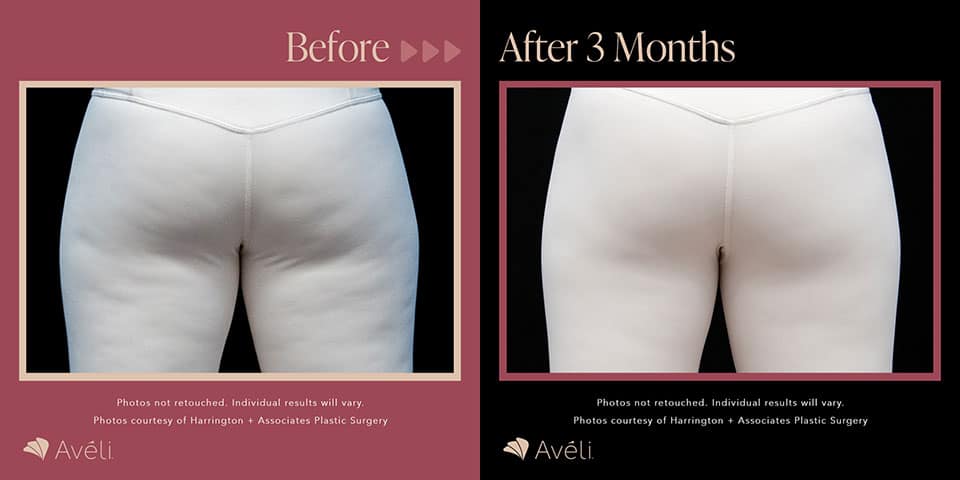 Are you bothered by the appearance of cellulite on your thighs and buttocks? You are hardly alone: cellulite affects up to 90% of adult women, regardless of their weight. Cellulite's dimples may not pose any health risks, but they do make your skin look less smooth and appealing.
At Graper Harper Cosmetic Surgery, we now offer an innovative, minimally invasive, and FDA-approved cellulite treatment called Aveli. Our doctors and patients agree that Aveli is the most successful cellulite treatment they have seen, due in large part to the fact that the treatment addresses cellulite beneath the skin rather than simply trying to smooth out the skin's surface.
Benefits of Aveli Cellulite Reduction
Among the reasons for Aveli's immediate popularity:
Cellulite reduction for most patients, as confirmed by clinical trials
Long-lasting results that are visible after just one treatment
Less downtime and discomfort
Safe on all skin tones, with no threat of causing hyperpigmentation
How Does Aveli Work?
Cellulite is primarily caused by septa, which are fibrous bands that connect the skin to the underlying tissue. When the septa shrinks or stiffens, this can cause dimples to appear on the skin. Whereas traditional cellulite treatments have focused on smoothing the outside of the skin, Aveli gets beneath the skin to address bands that cause these dimples.
After numbing your skin with a local anesthesia, your doctor makes a series of small incisions on your thighs and/or buttocks. These incisions allow your doctor to find and cut the septa that are creating the dimpling effect on your skin. Aveli's special handheld device allows for unprecedented precision so that the bands are cut for maximum effect. The procedure typically lasts about one hour.
Who Is a Candidate for Aveli?
Aveli is an effective treatment on most patients who are displeased with mild to moderate cases of cellulite on the thighs/buttocks. The ideal candidate for this treatment has a BMI under 25 and is between the ages of 25 and 45. To attain good results, your skin should still have some elasticity/firmness. If you have previously lost a significant amount of weight or had liposuction performed on your thighs/buttocks, Aveli may not be as successful.
Aveli Recovery and Results
Compared to other cellulite treatments, Aveli's recovery is significantly easier. Patients typically need only a few days of downtime before resuming their normal activities. You may wish to keep pressure off your buttocks during the first few days to minimize discomfort.
Swelling and bruising will subside in the following weeks, revealing the full results one to three months later. These results are long-lasting, and you should not need periodic touch-ups to maintain smoother skin.
Say Goodbye to Cellulite
If dimpling on your buttocks and thighs are detracting from the smooth contours you would like to show off in shorts or a swimsuit, the cosmetic solution you have been waiting for has arrived. To learn more about this treatment and whether it is right for you, please schedule a complimentary consultation with Dr. Evon Zoog at our office in Charlotte by calling 704-375-7111.