The procedure may be as simple as removing the implant through the same incision and leaving the scar tissue alone. Sometimes we will remove scar tissue to improve the shape of the breast if indicated. A breast lift may also be helpful to some patients who have had children or had significant weight loss. The procedure is done in the office under general anesthesia and the recovery quick and simple. Implants are great but like many things, there is a time and a place for them that may not be forever. Let Graper Cosmetic Surgery be your guide.
Why Are Implants Removed?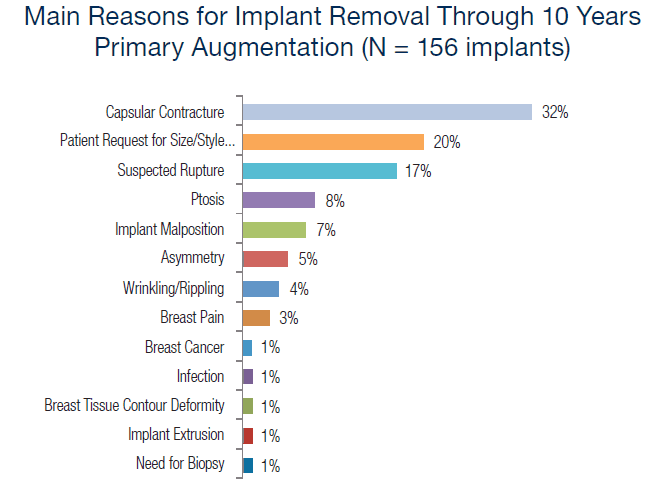 Breast implants may be removed with or without replacement in response to a complication, or to improve a cosmetic result. In the Allergan Core Study through 10 years, the most common reason overall for implant removal was capsular contracture for Breast Augmentation and Revision-Augmentation patients (32% and 36%, respectively).
For Reconstruction patients, through 10 years the most common reason for implant removal was suspected implant rupture (26%). Among Revision-Reconstruction patients, 2 patients had implant removal due to asymmetry and one patient due to capsular contracture. The main reasons Primary Augmentation and Revision-Augmentation patients had implants removed through 10 years are presented in the figure to the right.